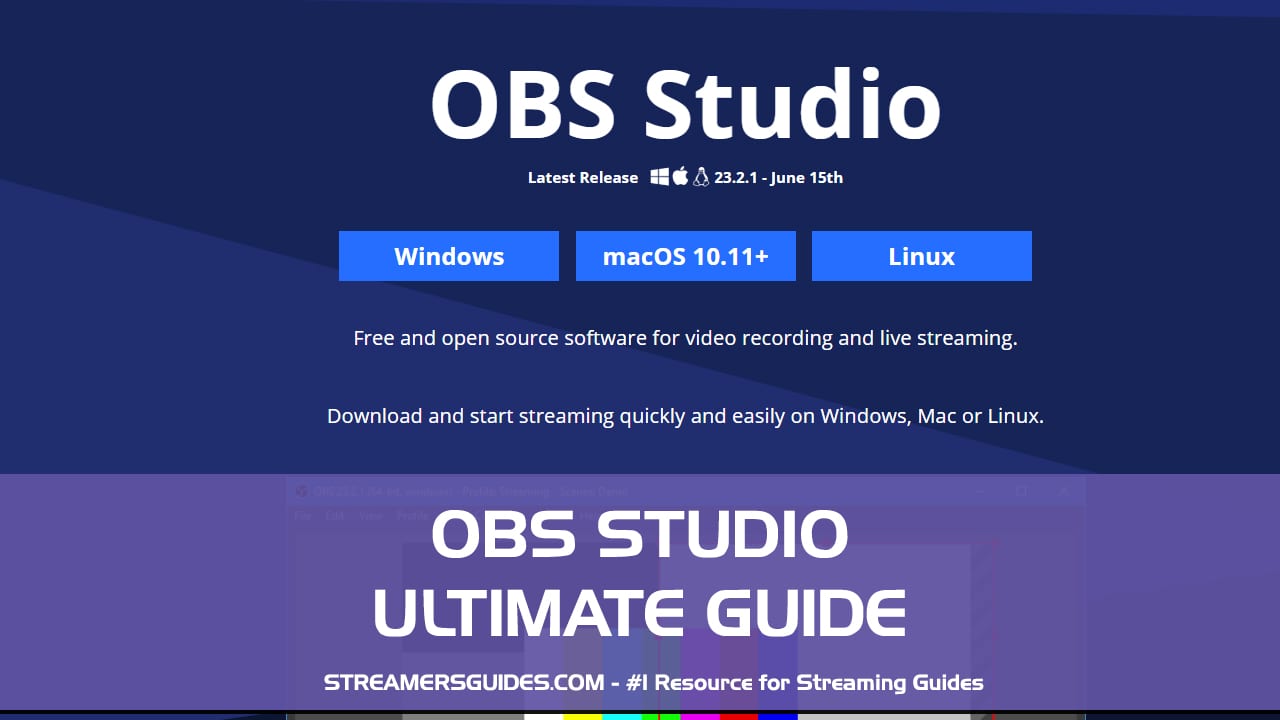 Ultimate Guide for OBS Studio – How to Setup Open Broacaster Software
Well helloo there friendly traveler! Welcome for this guide collection for obs studio that i have gathered for you. There is quite many things you need to know so you can get the most out of OBS Studio. I hope these video guides help you get started faster and totally grow your stream to new heights!
So What is OBS aka OBS Studio?
Open Broadcaster Software aka OBS is free, open source software for video recording and live streaming.
OBS Studio is the most used streaming software that Streamers use to Stream to Twitch, Mixer, dLive  and YouTube Gaming and many other providers.
Here you can find guides and tutorials how to setup the OBS Studio for best viewer experience and get your stream going nicely!
OBS Studio has two different forks
There is also two other versions of OBS that might interest you. SLOBS has really deep integrations with StreamLabs alerts and OBS.Live has layouts in the cloud for lower end computers i highly suggest the OBS.Live option.
Why Would You Use OBS?
If you have already tested out the StreamLabs OBS or OBS.Live and you didn't like them or maybe your computer / internet connection couldn't handle them.
It's totally understandable and some people have been reporting on issues regarding to CPU usage increasing with these.
Especially if you have a lower end computer OBS Studio could be a great solution for you! It is more lightweight than the previously mentioned two options. But let's get started with this guide so you can get to streaming!
Introduction and Setting up OBS Studio
OBS Studio -- How to Add Game, Webcam, Overlay, Text Sources
OBS Studio -- Scrolling Music Text with Spotify, iTunes, Winamp, Foobar, VLC
OBS Studio -- Adding Alerts for Follower, Subscriber, Donation
OBS Studio -- Adding Stream Labels (Last Donation, Follower Count + Many More)
OBS Studio -- Adding Countdown Timers for Twitch or YouTube Gaming
OBS Studio -- Adding Twitch Chat Overlay to Your Stream
Fix Lag, Dropped Frames, Bitrate Issues on your Twitch Stream
OBS Studio -- Advanced Mic Settings (Noise Removal, Compressor, Noise Gate)
Scripting, Audio Overhaul, Multiview + More!
Elgato HD60 Pro and OBS Studio -- Capture Your PS4 or Xbox One
OBS Studio -- Auto Scene Switcher
30 FREE Webcam Filters to Make Your Stream Stunning
Source Grouping, Audio Mixer, Color Labels + More!
Green Screen Stream Setup in OBS Studio or Streamlabs OBS
Credits and 1+ rep for: GamingCareers for the videos! Please make sure to check out Pete giving awesome tips and tricks how to improve your stream.
Information about the series: This post is part of the series: How to stream on Twitch and How to Stream on Mixer. How to setup the stream and do all the nitty gritty things. I hope these tips help you on the way to success! Updated: January 29, 2019
Open Broadcaster Software | OBS Review
OBS (Open Broadcaster Software) is free and open source software for video recording and live streaming. All the best things in the world are free! Which OBS is also. It really beats the competition by a lot. I actually got into streaming years ago and thought that of source a paid option is better. Then i went and tried xsplit.. There was errors, lagging etc.. But with OBS and especially with the tutorials and guides made by the obs community i got my stream going. OBS Studio is the most used and recommended streaming software in the livestreaming genre. You can stream to Twitch, Mixer, dLive, Facebook, YouTube Gaming etc. Really easily with OBS Studio. Even though the OBS has evolved in the forking stage of two separate versions which are StreamElements OBS.Live and StreamLabs OBS. The folks to this day still occasionally come back and stream with obs. It is the most lightweight streaming software there is. Highly recommended!