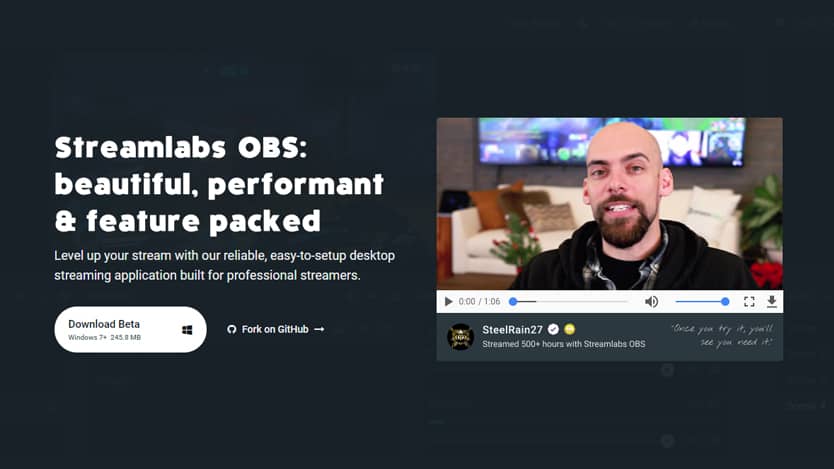 How To Setup – StreamLabs OBS Guide – In short SLOBS
StreamLabs folks have been pretty busy! They are really reinventing and simplifying streaming with the StreamLabs OBS or in short SLOBS. StreamLabs folks have been the major Stream Alert, Follower Notifications and Donation System that streamers use these days for years now.
These tutorials work for Twitch, Mixer, Dlive and YouTube. There might be some minor changes but most of the guides should be on point and help you! So they are pretty knowledgeable about the Twitch streaming world.
I tested out the StreamLabs OBS also couple weeks ago and the setup was the most easiest, clear and fastest way to get stream up and running asap.
The setup is really beginner friendly also! These tutorials are coming from one of the best tutorial creators The Frugal Streamer and Gael LEVEL who makes quite a lot handy tutorials for Twitch streamers.
After you have setup your Streamlabs OBS i would suggest you to check out how to setup StreamLabs Chatbot for your Twitch channel. It's pretty neat like SLOBS!
NEW! Check out the new StreamLabs Creator Sites feature! You can spice up your streaming brand with the new creator sites with just couple clicks and get that sweet streamer money rolling in faster.
This is an ad.. Not just any ad, but a cool and useful ad!
If you don't want to learn how to create graphics for your channel from scratch. Get an artist to do them for you!
What can StreamLabs OBS – Slobs do for you?
With StreamLabs OBS you can get quite a lot! Follower Notifications, Donation Notifications and all those goodies that normal Streamlabs offers also. In addition you get access to over 3000+ overlays that you can use in your stream. Do they cost you anything? NOPE!
You will also get a really clear dashboard where you can see things happening on your channel like followers, subs and more. I really like the live dashboard! 🙂
How To Setup – StreamLabs OBS
How to Move the Chat Box in SLOBS
How to add Stream Labels to Your Scene
How to Improve Your Microphone Sound
StreamLabs Remote Easy Setup
How to Setup Dual PC Streaming Guide – StreamLabs OBS
Selective Recording with Streamlabs OBS
Streamlabs OBS Filters guide
How to Make Animated Overlays in Streamlabs OBS
Step by Step Streamlabs OBS guide – EASY Animated overlays
Twitch Chat + Events In-Game for One Monitor Setups
How to Set Up Streamlabs Mediasharing
How to Set Up a Sponsor Banner in Streamlabs
How to Set Up a Spin Wheel Widget in Streamlabs
How to use multi-track recording in Streamlabs OBS
SLOBS Compressor Filter Overview
How to Enable Performance Mode
Information about the series: This post is part of the series: How to stream on Twitch how to setup the stream and do all the nitty gritty things. I hope these tips help you on the way to success! 🙂