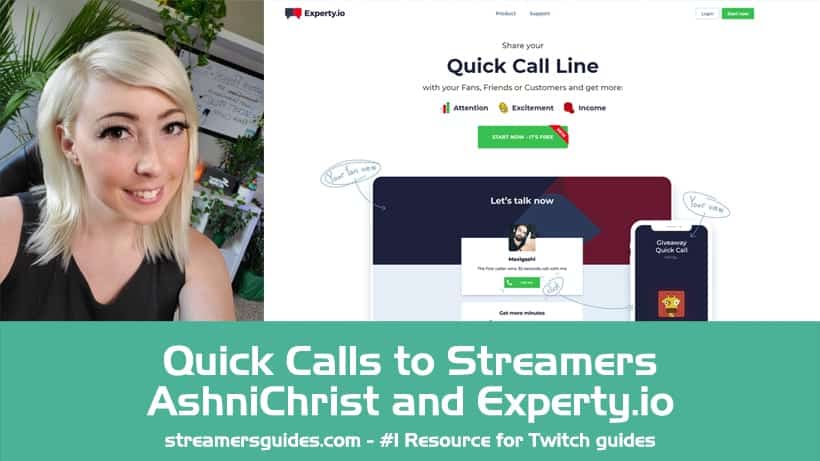 Quick Calls to Streamers with AshniChrist and Experty.io
Today I have a really interesting software to share for you! I have been part of the early testers with a streaming tool called experty.io.
The folks at experty have invested hundreds of hours to create a pretty unique tool that doesn't exist in the field yet. Well, Ninja kinda did it and shared his number for the whole world but this is a bit different!
Today's special guest who is going to host the whole show is ashnichrist. If you don't know who she is.
She is one of the only business-minded – Twitch Coaches in the Twitch field. If you haven't read her book about "Build Your Dream Stream Ebook". I highly suggest you to check it out.
So what does Experty.io have for you?
It enables you to start and receive calls from your viewers while you are streaming! Actually you can use the Quick Call line offline too if you want to. What makes this really interesting is that you can actually set a price for each call and receive income from the calls. You have control over how much you charge per call.
They actually also introduced an option where you can donate all the income for a charity also if you wish to do so. Cool right?!
This is an ad.. Not just any ad, but a cool and useful ad!
https://youtu.be/T5I9IWD3NGE
What does this mean for your viewers?
More interaction 😀 Haven't we all wanted to actually chat with a streamer at some point? I know I have! But darnn… Getting into that inner circle in the Discord servers are so freakishly challenging and usually, the streamer is in chill mode.
What if you could call a streamer, support a charity or just straight up streamer and tell the streamer AND the stream a joke! You could ask quick questions from the streamer and certainly, get noticed by the community.
I know that you can also do this with Skype and such but let's face it. Some of us are actually shy. We don't want our faces to be seen. But! Voices are a totally different thing altogether. You also have Free daily giveaway calls to give for your viewers. So you can test out the whole system and get your viewers more interactive and interested in your call line.
How does it work in stream? Ashnichrist shows you some funny moments
https://youtu.be/q_3_bOp2sEI
https://youtu.be/OjWRNtdfUUM
How do you setup Quick Calls with Experty for your Stream?
https://youtu.be/QbkLki02mZE
How to setup the Call Widget for your OBS