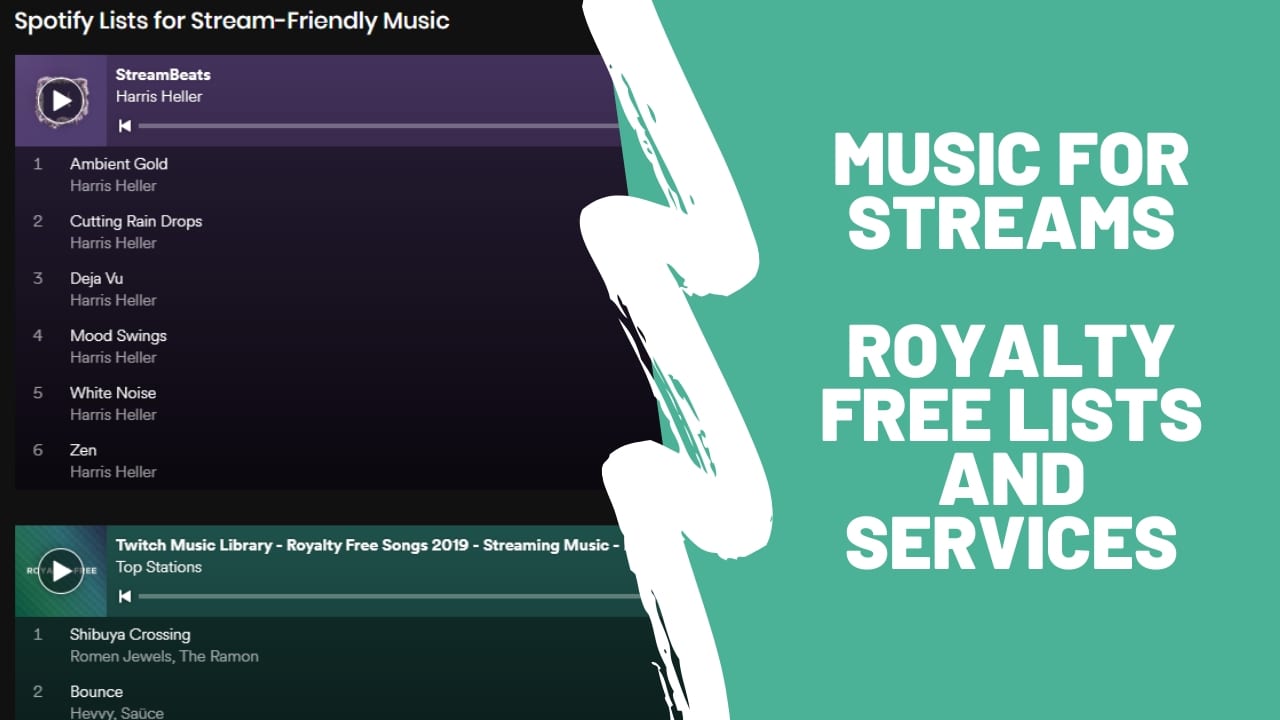 Music for Streams – Royalty Free and Stream-Friendly Music for Streamers
I'm pretty sure you have already seen that many popular Twitch streamers have been getting DMCA strikes from streams and clips that were years old. I have actually talked with some streamer friends and they didn't know that playing music might result in DMCA strikes.
Playing music in streams has been something that streamers have been doing for years already. So it's perfectly normal to hop into some stream and there are some cool tunes playing on the background that fit the game.
But actually, that is not okay from the copyright perspective. Since the artist isn't getting any income of played songs that is not usually okay. Trying to get permission for every song that you play that is playing on the radio. Is a pretty much impossible thing to do also.
Even if you would get permission to play Lady Gaga's latest hits album. The Twitch automatic bot still mutes your VOD:s and you may get penalized. After that, you send Twitch the written permission that you have got from Lady Gaga's manager, etc.. etc.. It's a really big hassle right?
Since we don't currently have an option that would allow us streamers to play every song in the world. What can we do?
What usually happens when you play music in your streams?
First, let's cover what might happen to you if Twitch notices you are playing music in your streams (Please note the Twitch bot doesn't make those DMCA notices. They are made by companies/creators straight to Twitch.)
This is an ad.. Not just any ad, but a cool and useful ad!
As a streamer, it's really important to be aware of the rules regarding music played on your streams. When Twitch's automatic system notices that you are using copyrighted music your VODs will get muted and you could get penalties by playing copyrighted music.
The best bet and safest way to not get your VoDs muted while playing music in your stream. Is to start playing royalty-free and no copyright music! Scroll down for a list of choices.
Note: Please note that royalty-free music doesn't necessarily mean free music. Some may cost you some money and some places require attribution. Pretty common places to do attribution are links in the bio and bot commands on your stream. Please check the attribution method before usage.
If you don't know how to create bot commands check out this Nightbot guide or if you are using Streamlabs Chatbot you can find information about it also. Let's start the show!
IF You Got a DMCA:ed. Use this
How to bulk download / remove Twitch Clips
YouTube Playlists for Stream Friendly and Royalty Free Music
Twitch stream safe music by Daigatas
No Copyright Music – Stream Playlistby NoCopyrightSounds
Vlog Travel Hip-Hop Instrumental Chill Cozy Cafe Lo-Fi Beat / Kicktracks – Midnight Lovers by KickTracks
Copyright Free Music | No Copyright Music by NoCopyRightSounds
Stream Beats by Harris Heller
Dance & Electronic Music for Twitch by Audio Library Plus
Services for Stream-Friendly and Royalty Free music

PretzelRocks is a free music app for streamers that have curated hours of stream-friendly music for content creators already! They only play royalty free music that you can listen to and share with your stream audience. Requires attribution via chat and they already have a bot that does the attribution automatically.

Monstercat has a pretty interesting system going on for steamers. You can play their Monstercat Twitch channel in the background for Free. Pro-tip is to change the quality of mobile so the stream doesn't hog resources from your computer. You can also get a Monstercat subscription for $5/Month which allows full monetization for Twitch, Mixer, and YouTube usage.

Epidemicsound has a massive library of music from various genres that you can use for YouTube, Facebook, Instagram Twitch, and podcasts needs. Epidemicsound has a subscription-based system that offers Royalty Free music to use. The cost of the subscription starts at 13$ and you can try out the whole system for Free for 30 days.
NoCopyrightSounds

NoCopyrightSounds offers free music with no copyright. You can find NCS music tracks at: SoundCloud and YouTube. Please note that attribution is required! You can find specific use cases for Twitch and YouTube usage over here.

Incompetech has a huge collection of free music from a variety of genres. Please note that link attribution is required. You can use the music for example YouTube videos, For streaming on Twitch, YouTube, and more. Even in stores! Pretty cool huh? Here is their FAQ with more specific use cases for music.

MachinimaSound offers a variety of genres and artists that you can use for your streams. You can either purchase a license from their latest collections or use the Legacy tracks that are free to use when you credit the artist also.

Bensound offers a huge amount of royalty free music to use from a variety of genres. I really like the Acoustic / Folk and Rock genre. Link attribution is required.
Generals rules for music usage for streaming websites
The general rules for most streaming websites are: if you do not hold the rights to play copyright music, and you get a DMCA notice from the owner of the music. Your account may be terminated. This is very rare and the chance of this happening is very low but it's good to keep this in mind if you choose to stream copyrighted music that you don't have the right to broadcast.
Twitch: Streaming copyrighted music could get your channel taken down if you don't have the right to the music. (Please note that multiple DMCA notices can get your stream ended and your Twitch account banned).
YouTube Gaming: Copyrighted music may mute your livestream or even terminate the broadcast. See here for more information..