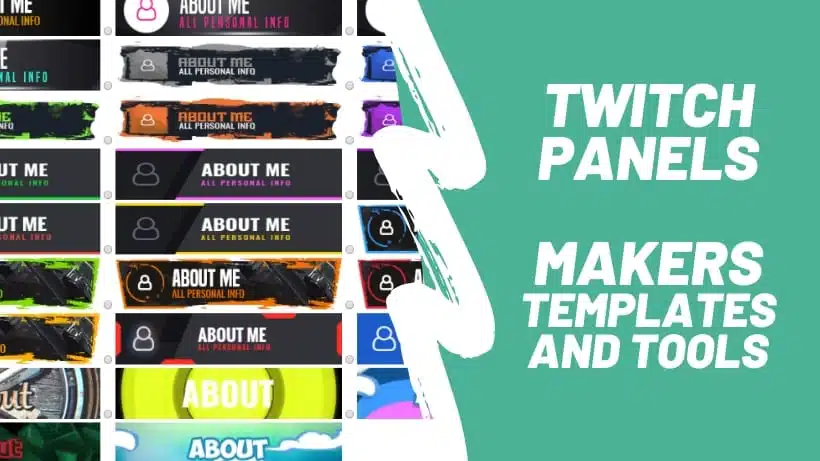 Free Twitch Panel Makers, Templates and Tools
You might have been looking for an easy way to create Twitch panels for your stream? If so you are in the right place! In this post, we focus on the newer twitch panel makers, templates, tools and luckily twitch extensions that are available for every streamer to use absolutely free.
Earlier in the Twitch Image Sizes article, we have covered the recommended sizes for all your Twitch Image needs and one part of that is of source Twitch panel size. If you have a photoshop and would like to create more original one how to make Twitch panels in photoshop article is for you.
Twitch Panel – Basics You Need to Have
About you section
About you, section is really good to add. This is the spot that new people and folks that visit your stream offline are going to check out. Tell the viewer about you, where are you from, what games do you play, what kind of a gamer are you? It is best to keep this part short and sweet.
It is good to remember that these times people really have a low attention span and they are most likely going to screen your twitch panels at glance. That's why it is important that your panels stand out from the crowd!
Social media links with images
Nothing is more annoying than a stream that has no links for the social media that they are using. If you ever want to get sponsorships or viewers to start and follow you on social media remember to add straight-up image's with links to your social media profiles.
Many times the streamers nicknames tend to be quite different in social media than the Twitch channel so this makes it more easy to get in touch with you. Keep it KISS – The best principle ever 😀
This is an ad.. Not just any ad, but a cool and useful ad!
Stream Schedule
If you have a stream schedule this is really good to add straight up also. Schedule helps viewers to be on time. Think of it as your favorite TV show. You want to be there when things start to happen. Nobody really watches Twitch VOD:s either (Psst.. If you are doing a playthrough put your VOD:s to YouTube. They are most likely watched there more easily since quite a lot of folks love playthroughs!)
Gear – Specs
A really common thing to add also is your streaming hardware. You would be surprised how many times just the specs you are using start conversations with others. Many times other streamers also visit your channel and these are always good spots to start the chat.
Custom Commands
If you don't yet have custom commands. I highly suggest you create some. Custom commands are the golden secret of every great twitch stream.
These can be used for ex. kill counts, automatic clips from the stream, showcasing your latest YouTube video, promoting your Instagram, promoting the latest merch deal you have got, shout outs to streamers buddies or viewers of your stream. There is a lot you can do with custom commands!
When you have the custom commands that your stream has in the twitch panels it makes even the new folks that come into the stream interested in them.
You as a streamer can of source focus on what is important which is streaming and entertaining your audience. If want to know how to create custom commands have a look at the Twitch Bots and Stream Bots archive on the blog.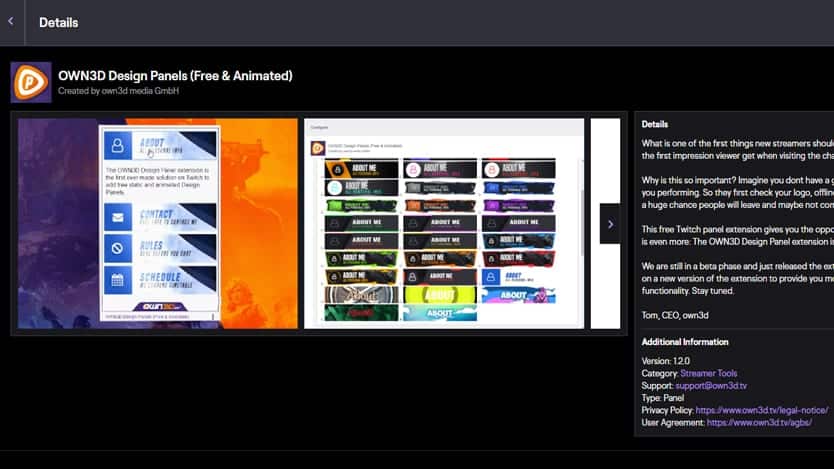 OWN3D Design panels is a new Twitch Extension you can use to spice up your twitch panels. It is easy to use for beginners also and the quality of the panel designs is top-notch which you can't usually find anywhere for free.
The extension comes with non-animated and animated versions that you can use for your streams. I highly recommend to test this out! There is a really awesome guide that can help you get started with animated twitch panels also if you want to see the ownd3d twitch extension in action.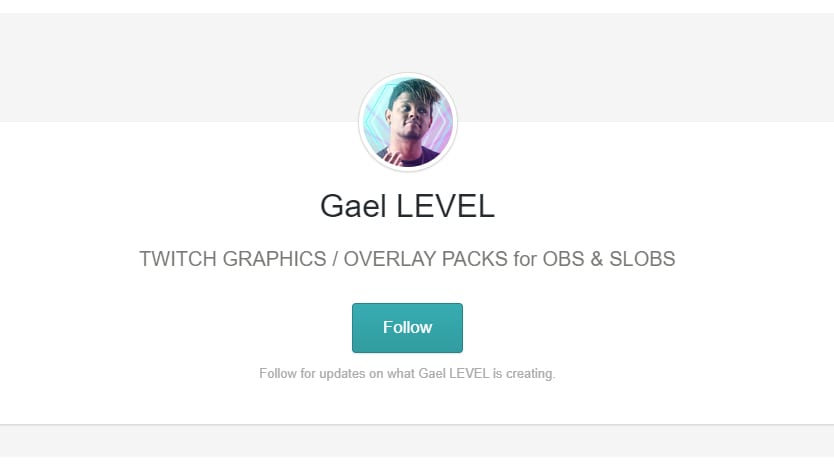 You might not have known that GaelLevel actually has Twitch panels also available for download! There are some really good looking panels that you can grab from his Gumroad e-store completely free.
There are also options for paid packs but they are 99 cents and usually include whole custom layout package in it. If you want to stand out I highly suggest you check these packs out. Btw.. Gael Level doesn't do commission work so all the creations in his store are straight up from the heart of creating.
He also covers quite a lot of design aspects on his YouTube channel. So if you want to learn more about great design check out his YouTube channel.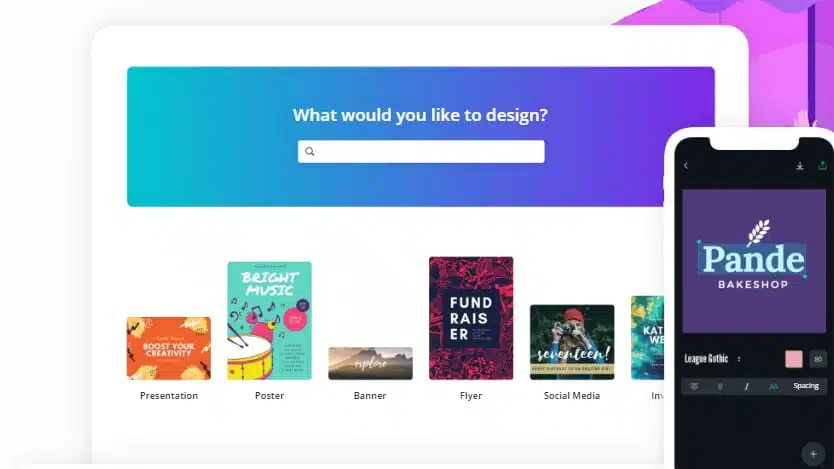 Oh, the good old canva design tool in the cloud. Maybe you have heard about it. Maybe you have not? Canva is a great tool for anyone who is looking for an easy to use tool for all kinds of design stuffs. In its core it is free to use and quite many of my designer buddies are also using the templates to whip up great-looking social media images with it.
I actually had a talk with the folks at canva and they currently don't have templates for straight-up Twitch panels but they are going to create ones soonish. They do have a template Twitch Banners though.
I'll include canva in this list since it's a really great tool that everyone should use. It is really beginner-friendly and it is covered in quite a lot of tutorials in the streaming field. If you want to know how to use Canva. Check out How to Make Twitch Panels Quick and Easy – With Canva article. That guide is going to get you up-to-speed in no time!
This is an ad.. Not just any ad, but a cool and useful ad!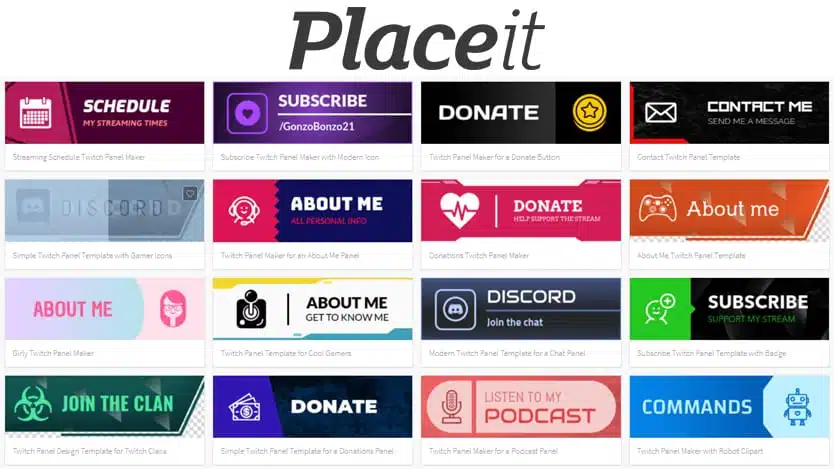 Placeit is a kinda new kid for me in the block. Haven't seen these used that much yet. So that could be a good thing for you! The main point of your panels is to stand out right 😉 While I'm writing this article there is 43 templates that you can use to get your panels little facelift!
On a pricing note, it seems that each of the templates is going to cost you a tiny bit of money with a $2,95 or you can get the subscription also for $14,95 / Month. The actual panel maker tool is really easy to use and you can do little edits with graphics that completely change the way your panels look. Pretty neat tool to test out!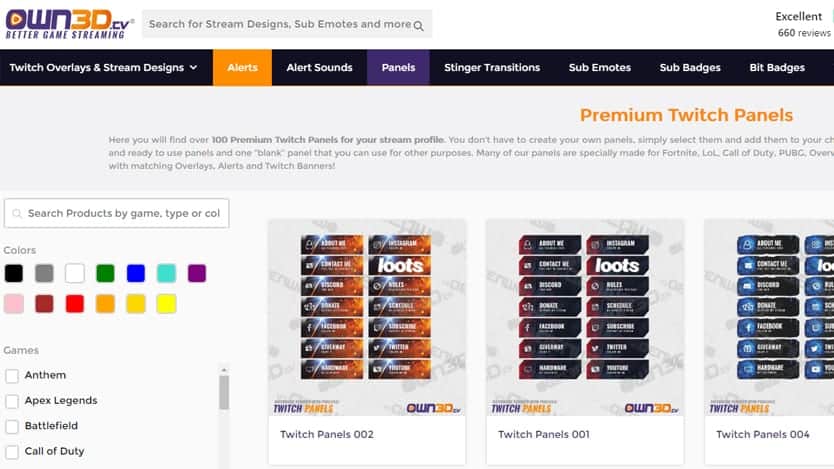 Since we do not want to be old and boring! Have you looked at OWN3D premium Twitch Panels? Darnn.. These designs look badass. I get that earlier minimalistic style was fine and dandy a couple years back and it actually worked then. These days Twitch viewers and especially younger ones are looking at the WOW Factor.
If you want WOW then these designs are for you. As of right now, the folks at own3d have 104 Twitch panels for you to choose one. Generally, the pricing is normally around $24 for a complete panel set. But there are sales going on quite regularly where they are 40% off.
Other great Tools and Resources for your Twitch Panels