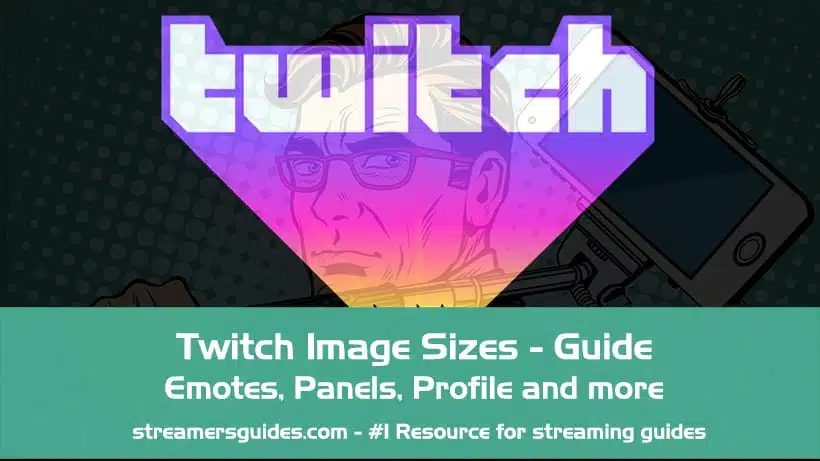 Twitch Image Sizes – Emotes, Panels, Profile, Offline and VOD:s
While i was creating a new streamer brand for a client. I went ahead and scoured the web AGAIN for all the best Twitch image sizes that streamers need to have professional-looking graphics in their channel.
So I thought why not create and share this list for everyone 🙂 So you can just go for one place and check the recommended image sizes for Twitch Streamer usage?
Some of the image sizes are different than on some other guides since I recommend saving some time while doing posts for example: The image posts you do as a promotion for Streaming communities, Twitter, and Instagram can be the same width and height.
This saves you quite a lot of time in the long run and you can focus on other things. Like streaming in itself!
Twitch Graphic Sizes Guide
| | |
| --- | --- |
| Graphic Type | Size |
| Twitch Profile Picture | 800 x 800 pixels |
| Twitch Video Thumbnails and Highlights | 1280 x 720 pixels |
| Twitch Profile Banner | 1920 x 1080 pixels |
| Twitch Overlay | 1920 x 1080 pixels |
| Twitch Webcam | 1920 x 1080 pixels |
| Twitch Tiles | 320 x 320 pixels |
| Twitch Emotes | 28×28, 56×56, 112×112 |
| Twitch Subscriber Badges | 18×18, 36×36, 72×72 |
This is your avatar and appears anywhere across the world wide web where users are represented by their avatar via their channel link. This can be edited only via your Settings page and should be a minimum of 200x200px to ensure quality.
Pro tip: I would recommend 800×800 so you can use the same image across multiple social media places.
This is an ad.. Not just any ad, but a cool and useful ad!
Hovering over your profile picture also displays a thumbnail of your Cover Image and includes your channel blurb, which can also be edited via your Settings page.
Past Broadcasts: Your recent full recordings. These recordings exist on the Past Broadcasts page for 14 days for all regular broadcasters, and 60 days for Twitch Prime Subscribers and Partners. These can also have custom thumbnails!
Highlights: These are your highlights curated from the full-length recordings. Learn how you can add custom thumbnails to these and bolster your branding! Thumbnails must be 16:9 (minimum size 1280x720px).
Suggested guide: How to Make a Custom Thumbnail for Twitch and YouTube for Free!
Profile banner recommended size is 1920 x 1080 and the maximum size is 10MB. You can change the Profile Banner in your settings.
An offline banner is hugely important! It will come up always when your channel is offline. The recommended size for the Offline banner is 1920×1080 and it needs to be less than 10MB.
Suggested guide: Twitch Offline Banner – Secrets for a Good One with FREE Template
Info Panels or Twitch Tiles as we streamers use to call them. Are a really important aspect of your stream. Here you can add about me, social media and quite a lot more that people are interested in.
Info panels don't really have height requirement so basically you can use anything. An important thing to keep in mind while doing your info panels is that they are always with max. Width of 320px.
Recommended size: 320×320
Recommended read: How to Make Twitch Panels Quick and Easy – With Canva
Twitch emotes. Oh, the BEST thing in the Twitch world. I'm an emote junkie so these are pretty important. Even more important is to get the emotes done in an interactive and right way and sizes so they look clear and crisp.
Twitch Affiliates at the start get 3 emote slots for different tiers and as you gain more subs you get more slots for emotes. Here you can find the subscriber emoticon tiers.
Required sizes for Twitch emotes:
28 x 28 px
56 x 56 px
112 x 112 px
Maximum File Size:
25KB
This is an ad.. Not just any ad, but a cool and useful ad!
Accepted File Types:
PNG
Make sure to read up on the Subscriber Emoticon Guidelines also. Before submitting your emotes.
Tips and Guides about Twitch Emotes:
Twitch Badges aka Subscriber Badges are the things that make your most loyal subscribers stand out even more in the chat. Twitch Subscriber Badges are displayed before the name and you can have different kinds of badges for specific months.
So you really can have 1-month, 3-month, and 6-month badges that show the badassery of the subscriber. You unlock more tiers later on when your stream evolves.
Unlike Emotes, badges do not require Twitch review and approval. You can upload them as soon as they are ready and they start to appear pretty soon.
30mins was the last time it took after I uploaded new ones and they started to appear in chat. So it might take a little bit of time for the Twitch CDN to catch up with the uploads.
Required Sizes for Sub Badges: (For Each)
18 x 18px
36 x 36px
72 x 72px
Maximum File Size:
25KB
Accepted File Types:
PNG