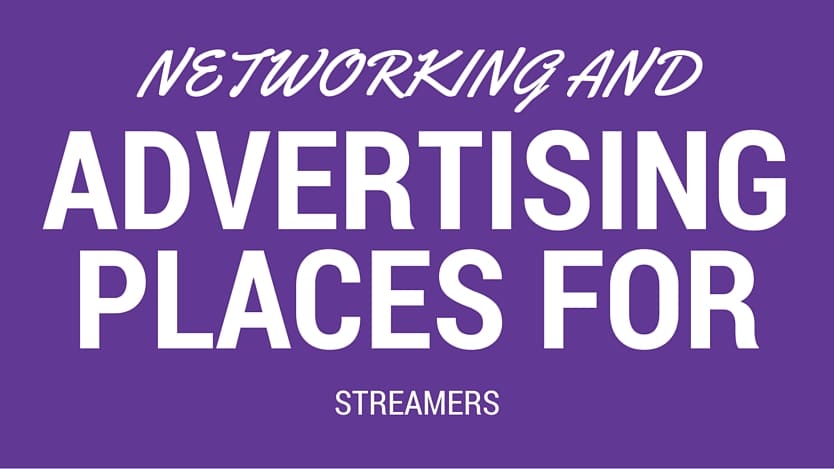 Networking and Advertising Places for Streamers
Finding out good networking and advertising places for streamers is pretty hard! So I gathered up a little list of the places that you could use to promote your stream. Not all of these places are going to work for everyone and I suggest you try out what is a good place for you.
Everyone's stream is a bit different and playing different games so different communities and groups are going to help you out in the long run. I hope these tips help you out!
What are the Differences Between Networking and Promoting?
Networking is about making friends. Advertising / Promoting is about getting viewers. If you only use Streamer Facebook Groups as promotion you are doing it wrong. Check out the How to Promote you Live Stream video to get started with the real way of advertising that works 🙂
Facebook Groups for Streamers
Gaming / Streaming Communities
If you want to niche down for certain game/s and find new cool folks to play with. Gaming communities are really good for that! This also helps you to transfer to other games easier when the whole group is doing changes for another game.
Be careful though! If you go around and be a lazy douche just posting your live stream on these places, you most likely going to get an instant ban and a lot of hatred. Be friendly and get to know people in the gaming community and then tell them your streaming also 🙂 How to find Game-Specific communities? Click here..
This is an ad.. Not just any ad, but a cool and useful ad!
Gaming communities
Streaming communities
Reddit
Reddit can bring a lot of viewers and followers to your channel. It is also good to know that if you are going to scout for game-specific Reddit threads. It is easier if one of your friends does advertising. There is usually a rule: "Don't post your live stream" but "Friend can do so".
But for Twitch Reddit it is best to use your own stream name and just be you. There is quite a lot of people helping streamers.
How to find Game Specific reddit threads? Click here..
Re-tweeting services
Re-tweeting services are really good way to get your stream out more for other people. You need to usually always follow these places back so that they will send the re-tweet though. So keep that in mind 😉
Re-tweet Services – No longer work like they did couple years ago. Check out the 6 Best Places to Advertise Twitch Stream article for more advanced ways of promoting your Twitch stream.

I'll leave the most current re-tweet services still here if you want to use them. But i would recommend better ways in 2020 for stream promotion.
Websites and Cool Tools / Voting