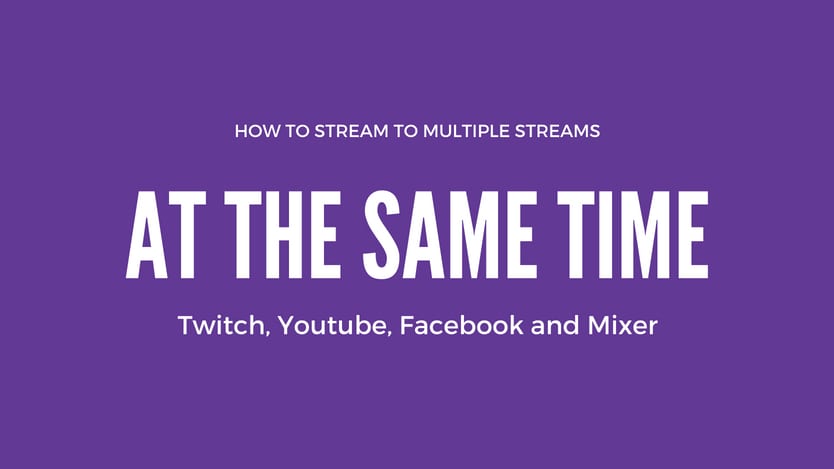 Restream.io – Stream to Twitch, YouTube, Facebook and Mixer at the same time
As a smaller and starter streamer it's pretty challenging to find those first few viewers for you twitch stream since there is so many people usually streaming the exact same game. What you could do to get your name out there is start to stream to Twitch, YouTube Facebook and Mixer at the same time.
Benefits of streaming to Twitch, Youtube, Facebook and Mixer
You will get access to untapped people that might come huge fans of your brand. You also most likely have less competition in popular games like LOL or CS:GO in YouTube, Facebook and Mixer than on Twitch so you show up for more people than if you would just stream on Twitch.
Awesome thing when you stream to Youtube Gaming, Facebook or Mixer is also that your broadcasts are automatically saved to YouTube Facebook, Mixer and Twitch. So you don't need to export your twitch streams to YouTube after the stream. Pretty neat right?
Cons of streaming for 2 or more places
Cons of this method are pretty much that you have to check out two or more chats at the same time and you need to usually setup two different alert systems also. So you can provide the best experience for the viewers. Luckily with restream.io there is a global chat which shows the chat from multiple services so you can keep up with the chat activity more easier!
You can also include the chat for your OBS Studio or Streamlabs OBS if you want to so everyone can see that magic happening in multiple streaming platforms!
What i would suggest for you to do especially if you are a new streamer to test out witch platform works for you the best and then decide. There is people streaming in many platforms on YouTube Gaming, Facebook live, Mixer and Twitch that are successful.
This is an ad.. Not just any ad, but a cool and useful ad!
How to: Stream to Twitch, YouTube, Facebook and Mixer at the Same Time
Restream.io is a free service that let's you stream to multiple places like YouTube Gaming, Mixer, Twitch, Ustream, Hitbox and 30 other platforms simultaneously. You only need to stream to one server that they offer and from there it will be served all the places you have connected. Currently the Facebook live is still behind the paywall but the plans are really affordable!
https://youtu.be/QLmOQn_PiNs
Credits and +1 rep: For The Frugal Streamer about the video: The Definitive Guide to Restream.io. Awesome video!
If you are looking for more in-depth guides about streaming platforms:
These two guides are going to be useful for you! 🙂